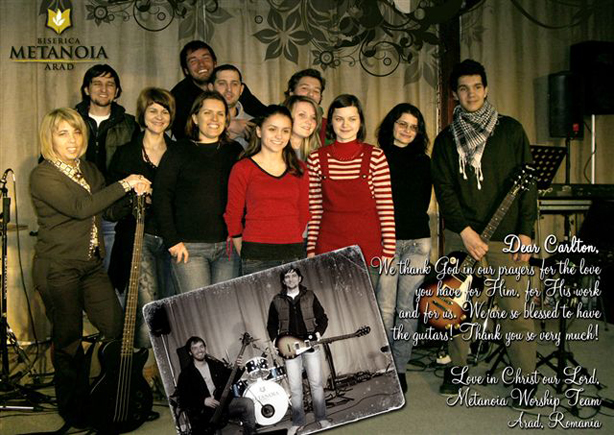 Testimonials
Here is what some of our guitar recipients are saying:
Guitar Ministries Guitars In Romania
"…the guitar is wonderful and so useful. We praise the Lord every day with it."
Lucian Rauca – Romania

Thank You!
"Thank you so much for your gift of several guitars. I and our praise team thank the Lord for your generosity."
Christian Barbosa, Pastor, Metanoia Church, Arad, Romania – Romania

We can be much more effective.
"Here in Tanzania, things are nothing at all like the USA. We only have two hours of electricity a day, and one guitar for the whole school. Now with the guitars you provided, we can be much more effective in ministry with our students. The students here are very musical, and are learning to praise God with our new guitars. Thank you so much."
Amy Imel – Tanzania, Africa

Mozambique, Africa
"A mission team from the Healing Place Church in Baton Rouge, LA recently made a mission trip to Mozambique, Africa. Aley Demarest from that church contacted Carlton Jones of Guitar Ministries, and four guitars were delivered by the team to the mission work there in Mozambique. Part of the praise and worship team from the church made the trip, and they brought an Ovation guitar, a Takamine guitar, and an Ibanez bass from Guitar Ministries and a Strat donated by Aley. What some of the team did was to leave their guitars at home, and played the donated guitars there in Mozambique, and left the guitars there for the mission on their departure. The guitars mean a lot more to the folks in the field when they see them played by such good players."
Healing Place Church, Baton Rouge, LA – Mozambique, Africa

Daniel Abrego Starts Kids Guitar Class
"I found the Guitar Ministries web site by "accident". (I know God led me to it). God laid it on my heart to minister to my old neighborhood back in Robstown, TX. All I knew to do was start a guitar class with the kids in this drug torn area. I sent an email to Guitar Ministries hoping it would be answered in a month or two. However, that very night Mr. Jones answered my email, and I had 10 beautiful guitars the next week. With tears in my eyes, I thank you Mr. & Mrs. Jones."
Daniel Abrego, Youth Minister – Corpus Christie, TX

Tolivers Deliver Guitar to Peru
"The Tolivers are a missionary couple who minister in Peru. They contacted Guitar Ministries on a recent furlough, and returned to Peru with a guitar given by Guitar Ministries. Yoland Capcha plays this guitar there in Peru."
Yolanda Capcha – Quechua, Peru

MITC, Cordoba, Mexico
"Thank you, Carlton, to you and your ministry for the donation of these wonderful instruments. We just began a new class at our school on Bass Guitar, and did not have a bass until you brought us this one. The guitars will fill a huge need as we spread throughout central and southern Mexico. You'll never know how much this means to us, and how many will be blessed through this great ministry."
Dan Hall, Director – Cordoba, Mexico